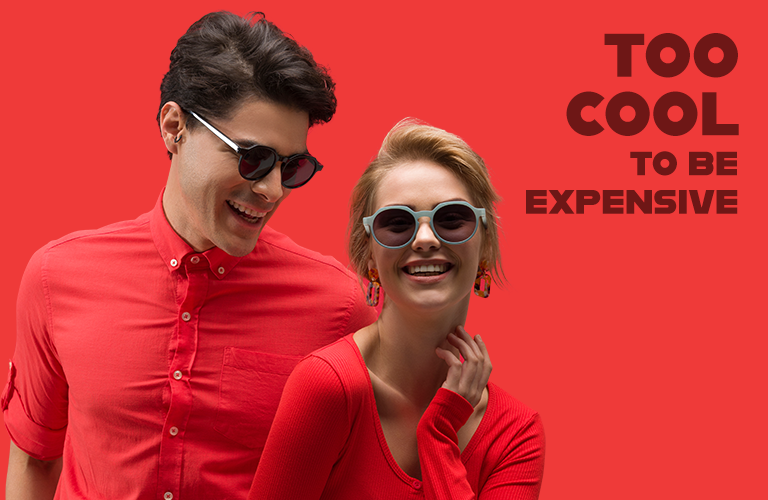 Too Cool To Be Expensive – That's Revolutionary

"Eye Connection" is a lifestyle brand providing outstanding sunglasses at a revolutionary price. Eye Connection was founded with a powerful idea of creating a brand which offers a great alternative to expensive branded sunglasses. Its philosophy is simple: Everyone should have the chance to look great in a pair of frames, with high quality lenses, without breaking the bank.

There is a problem here!

Sunglasses are part of one's personal style and identity. Especially wide variety of sunglasses designs and colors in optical shops create urge and desire to own more than one pair. But unfortunately these appealing products are sold at incredibly high prices that make them unreachable to most consumers. But why? Because few international companies control majority of the eyewear market in the world.
Most high-end fashion house brands don't design or produce their own eyewear. They sell those rights to massive companies that do it all for them.These large distributor companies design, manufacture and sell branded glasses for astronomical prices directly to optical shops and then pay fees to the fashion brands for using their name and logo.Then, optical shops mark up frames and lenses an additional 3-4 times before selling them to you. This system doesn't make any sense to us since it hurts you as consumers at the end.

Great eyewear is for everyone

We believe that everyone should have chance to wear a great eyewear made of high quality materials. Therefore we keep searching for to reduce the retailing prices of our frames without compromising ultimate quality.

Solution: A brand new business model!

We are very proud to serve you our high quality frames and lenses with revolutionary prices. How come that be possible? The answer is very simple. The only reason they cost less is because we use a new business model to eliminate the unnecessary parts of the supply chain. We're an independent brand and we create our own designs. We don't partner with licensing companies which control the market and keep prices artificially high. So by eliminating unnecessary actors from our supply chain, we can success it.

Quality doesn't have to be expensive.

As Eye Connection, our motto is "Too cool to be expensive". Because we refuse to charge outrageous prices for our frames as other fashion eyewear brands do!
We will continue our journey as a brand in eyewear sector that aims to be unique with its business model and that always thinks 'out of the box'. Our revolutionary spirit reflects upon each of our designs and frames.

We are looking forward to seeing you!

We would love to see you in person, so please drop by one of our stores which are located in Istanbul Tesvikiye / Suadiye / Bahariye, Kanyon AVM, Izmir Alsancak where we are showcasing our awesome eyewear collections.